I wish Insteon would give us a tiny, wireless, DIY module (like Arduino) to allow us to build our own input/output devices
for an Insteon network that are more compact and modular than the IOLinc. Until then, we've got to make due with what we've got.
Recently, the Hidden Door sensor was released, and we're getting closer to that dream with the miniaturization of our sensing devices. This device is basically just a button that sends command to indicate whether it's pushed or not, but because the size is coming down from the previous model, it has all new applications.
Specifically, the last state (locked or unlocked) of the MorningLinc lock is recorded in the ISY-994i, but that doesn't necessarily indicate whether the door is locked or unlocked, since manually throwing the deadbolt doesn't change the state. I've talked about how I'd like to write a program to automatically lock the door at night – but only if it's unlocked to avoid unnecessary beeps.
Now, with the hidden door sensor
, sensing whether a door is locked is possible. The trick is to remove the metal strike plate and drill a 3/4″ hole behind it: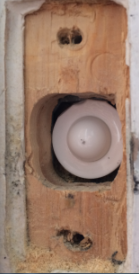 The steps are pretty simple:
Remove the deadbolt plate
Drill a 3/4″ hole inside the deadbolt cavity
Snip off the screw mount on the sensor
Slide the sensor into the hole
Replace the deadbolt plate
… and now you'll know whether the deadbolt has actually been thrown: