It's almost that time of year where those gaudy inflatable lawn ornaments will start showing up for Halloween
, Thanksgiving
, and Christmas
, and Hanukkah
– hey, I don't judge, more power to you!
In the past you've likely used a manual outdoor timer
to schedule your holiday decorations, but this year you're automated, right? As such, you'll want to pick up an Insteon Outdoor ApplianceLinc
or two. These dual-band devices function just like the indoor ApplianceLinc, but they can power up to 1800 watts (as opposed to ~400 watts for the indoor model), are weather resistant, and have a huge operating range in terms of temperature.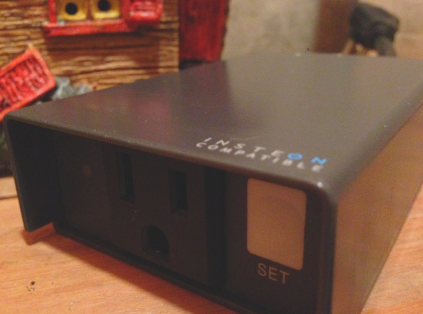 The advantages of using these over traditional timers include:
Because you can centrally program when your devices turn on, you can program multiple devices to go on at once. If you have candles in your windows in addition to Christmas lights out front, you don't have to worry about getting them all to come on at the same time.
You can program dynamic schedules, such as running the lights for a little longer as the holiday approaches.
You can program flexible times such as turning the lights on "at 30 minutes after sunset".
You can use motion sensors for added effect. Maybe put a strobe light on your front porch that turns on when the kids come around for trick-or-treating? Just sayin'…
You can leverage your own location data to, say, save energy by turning on the lights an hour later (or off an hour earlier) if you're not home.
Remember that, while these are weather resistant, they should still be plugged into a GFCI outlet
, which has a built-in circuit breaker.