As we continue to add to our Insteon Network, let's toss an Insteon Wireless Motion Sensor
into the mix. This motion sensor operates on a 9v battery (which is helpfully included), is wireless, and can be unobtrusively mounted in a corner using the included mounting bracket: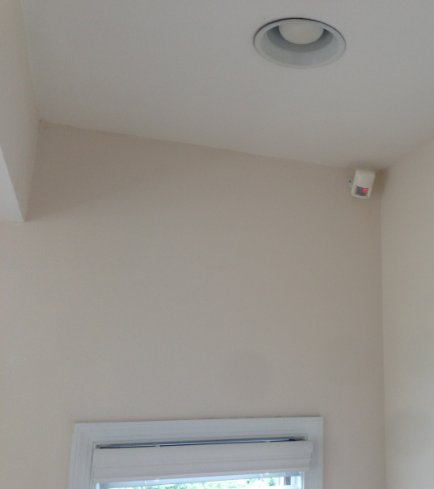 Or, it can be mounted flush to the wall with some 2-sided tape (seen here with a
Foscam Camera):

It's very well-documented on SmartHome's Insteon Wireless Motion Sensor product page, but some key features include:
Wireless, adjustable sensitivity for both motion and light levels
Configurable to only detect motion when it's dark (so that if it's triggering lights they don't turn on in the daytime)
Ability to control devices and scenes directly without a central controller
Decent battery life – 6 months to a year depending on the amount of motion and configuration
Once you've mounted it, it's pretty easy to set up, keeping in mind that you'll need a dual-band device such as this dual-band switch
nearby so that it can communicate with the rest of your network. You add the device to your network, then add it as a controller for any of your scenes. It can also be a part of an ISY-994i program that will allow some advanced capabilities, which we'll cover soon.