Remember those in-wall speakers we mounted a while back? Well, now we're going to need to power those things, and all we have for the source audio is the HDMI output coming from our HDMI matrix. So, we need two pieces: first, we'll need to extract, or "de-embed", the audio with this HDMI audio de-embedder
– it allows you to pass through an HDMI signal and extract the audio signal via a stereo out cable (this particular model will also extract 5.1 channel surround-sound audio via an optical cable as well):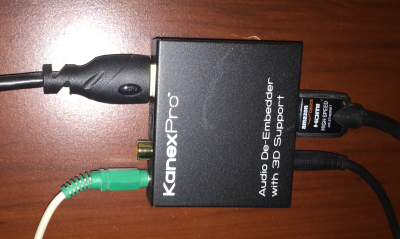 Now that we have the audio signal available on our stereo cable, we need to amplify the audio to power our in-wall speakers. For this I chose this inexpensive audio amplifier
; it's relatively cheap and uses a manual volume control so it doesn't allow for a remote control to change the volume, but that didn't bother me for this particular application.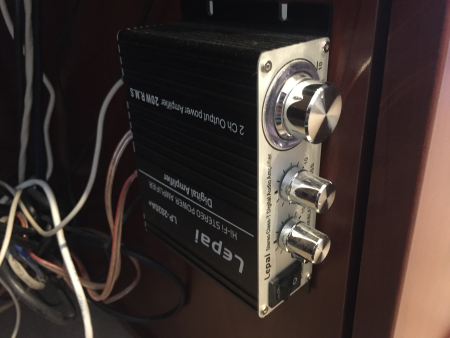 … and that's it! Now, any signal coming over HDMI will have the audio de-embedded, where it's routed to an amplifier to power the speakers. And the HDMI signal goes straight through for the video to be displayed on another device – more on that in an upcoming post!