When we covered the KeypadLinc, we talked about how you could get a 50-pack of buttons with different text
or use a 4-Color LED Color Change Kit
to get different colored buttons.
But, to truly give your 8-button Insteon KeypadLinc
a personalized setup, I recommend going with a custom-printed solution from smarthome.com. This one's a no-brainer: at the time of this writing, the 50-button set currently lists for about $28 on Amazon, while the 8-button custom set (list price around $50) is on sale for $20 – and you'll get exactly what you need once you decide which function you want for each button.
For example, there's only one "Garage" button in the pre-printed set, but if you have a 2-car garage, you may want a button for "Garage 1" and "Garage 2":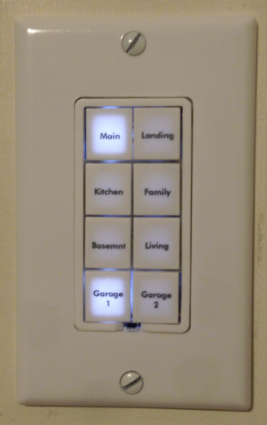 You're only limited by the number of characters (7), and while it may seem funny at the time to order a set of four-letter expletive code words for each of your scenes, I recommend you try and choose text that's as descriptive as possible for each of your scenes.