I know you can make pretty much anything out of duct tape, and from its wiki page, just now learned that apparently it's not actually good for taping ducts. When I moved into my house, I bought several rolls of the stuff,
but now several years later I'm surprised how rarely I've actually used it for practical home automation and improvement projects.
Instead, I have found that the two-sided Heavy Duty Mounting Tape
is great for indoor use such as hanging pictures or motion sensors and a similar version
is great for heavy-duty or outdoor use, such as hanging address numbers or mounting heavier hardware. I've used this tape on many upcoming projects that we'll be talking about, and strongly recommend having a roll of each handy for your own projects.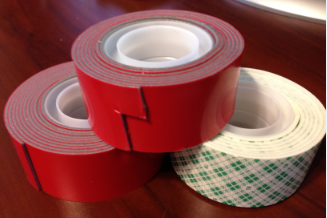 Finally, in case you don't understand the title of this post, let me offer a reminder – I know, it's a stretch…