When I relocated my media center for a cleaner look and one less piece of furniture in my family room, I was left with a plethora (it's a word – look it up!) of outlets and wall plates under my TV. There was a phone jack, a cable jack, HDMI conduit, and some other blank plate with nothing behind it: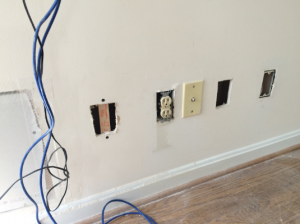 File this tip in the "obvious" category, but it took me some time to get comfortable with the fact that nothing in a home in written in stone (literally – unless you're these guys!): if you don't like the way something looks, more often than not you can simply fix it yourself! I wanted a cleaner look, so I decided to just get rid of the the unneeded plates by simply dry-walling over them like we've done in the past for any other drywall work. As you can see in the above shot, I used the approach of putting a brace (I generally use the free paint stirrers you get at Home Depot), fitting in a piece of drywall, and plastering over them. But for smaller holes like this you can simplify the job with a drywall patch kit


The end result after all patching, sanding, and painting is done is a nice clean wall: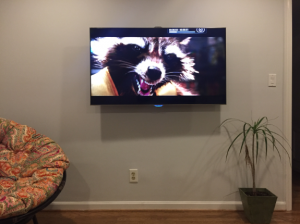 This trick works best with old phone lines (because really, who uses house phones any more?) and weird empty wall plates that seem to have no purpose. A/C outlets shouldn't be covered up unless the in-wall wiring is also removed. Also, I wouldn't advise cutting any wires that may be useful in the future. For example, while I'm happy to not have an "ugly" coax jack on the wall where the entertainment center used to be, the next homeowners might want it back. So I just tucked it away in the wall rather than snipping it so it can easily be recovered.