Quantified Self, or Lifelogging, is all about being able to capture and record information about yourself, such as weight,
activity/sleep,
and location
.
After Google Latitude shut down, I went looking for an alternative to capture my location all the time, with the intent of building geo-location into my home automation system. It turned out that MobiLinc's geo-fence feature met all those needs, but I'm still a huge fan of the Moves App: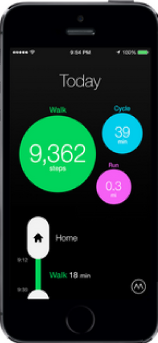 The Moves App is great because not only does it do an excellent job of tracking your various activity types and locations, it has a great API for extracting that data for future reference. The data is great to see where you've been on a particular date, and I'm working on finding ways to incorporate this into my home automation system even further than geo-fencing. For example, based on the actual activity that I'm engaged in, the home automation system will be able to better understand how long it will be before I arrive home to adjust the thermostat at the appropriate time.
For now, I've incorporated this location data into an application I've been developing called IntelliHome that allows me to plot location information on any day in the past 4.5 years (half of the data extracted from Latitude, half from Moves):

Even if you aren't into Home Automation, the Moves App is a great free app for iOS or Android that will really give you a sense of your own activities over time. Give it a shot!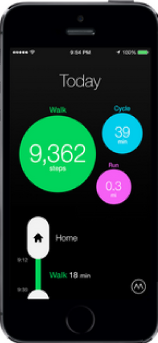 UPDATE 4/28/2014: Days after this post went out, Moves was acquired by Facebook. So knowing that Facebook will now have access to your every move might make this app a little less inviting, but at the same time it will no doubt make their ads so much more "useful" to you when Facebook knows exactly where you live, work, and play. At least that's no doubt going to be their party line…
UPDATE 5/5/2014: Well, that didn't take long. Mere days after the acquisition Moves has updated its privacy policy to basically say "we can do whatever the hell we want with your personal information". Specifically: "We may share information, including personally identifying information, with our Affiliates (companies that are part of our corporate groups of companies, including but not limited to Facebook) to help provide, understand, and improve our Services." In other words, Facebook and all its advertisers are now Moves Affiliates, and they'll no doubt argue that selling your home and work address to said advertisers helps to "improve our services". So, yeah.